You can finally purchase Imperial Housing Authority-owned property for your very own!
This includes such things as Cantinas, Hospitals, Hotels, Houses, Factories, Merchant Tents, Salon Tents, AND MORE.
How it works:
All GM-owned buildings will need two things to complete the purchase: a credit payment, and a player-crafted deed.  These vary by what building you are trying to purchase.
If a building is GM-owned and available to purchase (often denoted by ***For Sale*** on the building sign), go inside, use the radial menu, and choose "Buy Structure."  For a factory, you'll just need to stand nearby, target it, and use the radial menu on the structure itself.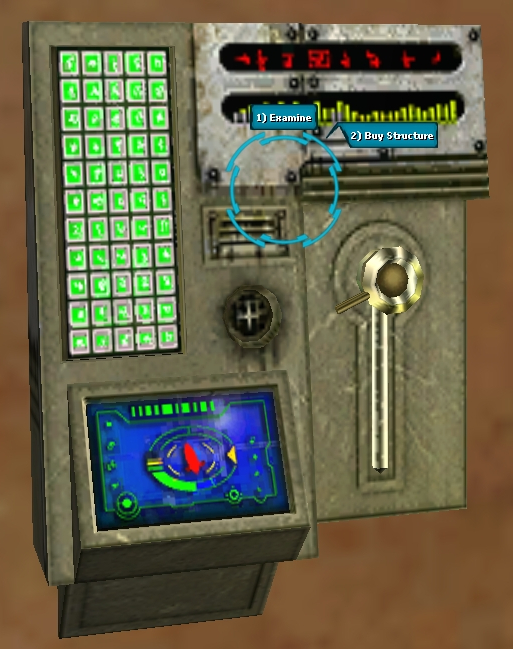 At this point, a menu will pop up, telling you the price, the deed(s) that can be used to purchase it, and the first compatible deed it found in your inventory.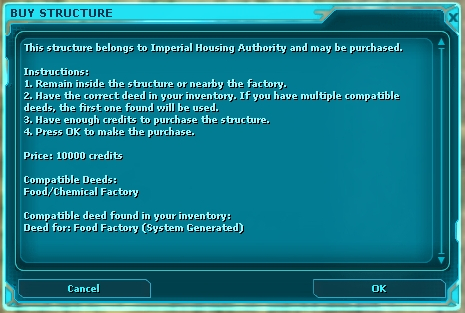 If you have a compatible deed, and enough credits to make the purchase, click "OK."  You will get a confirmation message asking if you REALLY want to proceed,  If you do, go right ahead!  This building is now yours!
Prices range from 10k for a small house to 2 million for a cantina, and everywhere in between.
Notes:
You do not get the deed back should you choose to destroy the structure. This is due to how the buildings are placed in the world by an admin (no deed is associated with them).
There isn't an automated option to sell the structure back to the Imperial Housing Authority; Once you buy a structure, it's yours to use in that location.
You can transfer the ownership to another character using the /transferStructure command as you can with any other structure.
The system is really all about "location, location, location" and allowing players to buy the special buildings without requiring the player to wait for a Game Master to help them. There should still be plenty of space in the cities to use deeds the same way as always, though parts of towns that are on strange angles will most likely be populated with IHA buildings, because admins are able to line them up at the correct angles.